Page 62 - SMCK Magazine #4
P. 62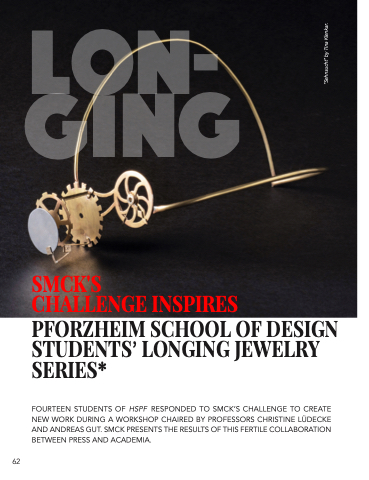 62
LON- GING
 SMCK'S
CHALLENGE INSPIRES
PFORZHEIM SCHOOL OF DESIGN STUDENTS' LONGING JEWELRY SERIES*
FOURTEEN STUDENTS OF HSPF RESPONDED TO SMCK'S CHALLENGE TO CREATE NEW WORK DURING A WORKSHOP CHAIRED BY PROFESSORS CHRISTINE LÜDECKE AND ANDREAS GUT. SMCK PRESENTS THE RESULTS OF THIS FERTILE COLLABORATION BETWEEN PRESS AND ACADEMIA.
"Sehnsucht" by Tina Klenkar.