Page 60 - SMCK Magazine #4
P. 60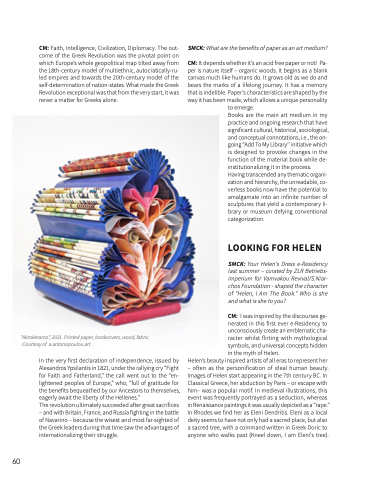 60
CM: Faith, Intelligence, Civilization, Diplomacy. The out- come of the Greek Revolution was the pivotal point on which Europe's whole geopolitical map tilted away from the 18th-century model of multiethnic, autocratically-ru- led empires and towards the 20th-century model of the self-determination of nation-states. What made the Greek Revolution exceptional was that from the very start, it was never a matter for Greeks alone.
SMCK: What are the benefits of paper as an art medium?
CM: It depends whether it's an acid free paper or not! Pa- per is nature itself – organic woods. It begins as a blank canvas much like humans do. It grows old as we do and bears the marks of a lifelong journey. It has a memory that is indelible. Paper's characteristics are shaped by the way it has been made, which allows a unique personality
to emerge.
Books are the main art medium in my practice and ongoing research that have significant cultural, historical, sociological, and conceptual connotations, i.e., the on- going "Add To My Library'' initiative which is designed to provoke changes in the function of the material book while de- institutionalizing it in the process. Having transcended any thematic organi- zation and hierarchy, the unreadable, co- verless books now have the potential to amalgamate into an infinite number of sculptures that yield a contemporary li- brary or museum defying conventional categorization.
LOOKING FOR HELEN
SMCK: Your Helen's Dress e-Residency last summer – curated by ZLR Betriebs- imperium for Vamvakou Revival/S.Niar- chos Foundation - shaped the character of "Helen, I Am The Book." Who is she and what is she to you?
CM: I was inspired by the discourses ge- nerated in this first ever e-Residency to unconsciously create an emblematic cha- racter whilst flirting with mythological symbols, and universal concepts hidden in the myth of Helen.
Helen's beauty inspired artists of all eras to represent her – often as the personification of ideal human beauty. Images of Helen start appearing in the 7th century BC. In Classical Greece, her abduction by Paris – or escape with him– was a popular motif. In medieval illustrations, this event was frequently portrayed as a seduction, whereas in Renaissance paintings it was usually depicted as a "rape." In Rhodes we find her as Eleni Dendritis. Eleni as a local deity seems to have not only had a sacred place, but also a sacred tree, with a command written in Greek Doric to anyone who walks past (Kneel down, I am Eleni's tree).
 "Akrokeramo", 2021. Printed paper, bookcovers, wood, fabric. Courtesy of a.antonopoulou.art
In the very first declaration of independence, issued by Alexandros Ypsilantis in 1821, under the rallying cry "Fight for Faith and Fatherland," the call went out to the "en- lightened peoples of Europe," who, "full of gratitude for the benefits bequeathed by our Ancestors to themselves, eagerly await the liberty of the Hellenes."
The revolution ultimately succeeded after great sacrifices – and with Britain, France, and Russia fighting in the battle of Navarino – because the wisest and most far-sighted of the Greek leaders during that time saw the advantages of internationalizing their struggle.