Page 20 - SMCK Magazine #4
P. 20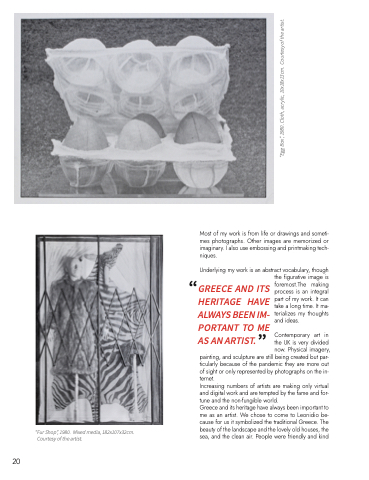 Most of my work is from life or drawings and someti- mes photographs. Other images are memorized or imaginary. I also use embossing and printmaking tech- niques.
and ideas.
Contemporary art in the UK is very divided now. Physical imagery,
painting, and sculpture are still being created but par- ticularly because of the pandemic they are more out of sight or only represented by photographs on the in- ternet.
Increasing numbers of artists are making only virtual and digital work and are tempted by the fame and for- tune and the non-fungible world.
Greece and its heritage have always been important to me as an artist. We chose to come to Leonidio be- cause for us it symbolized the traditional Greece. The beauty of the landscape and the lovely old houses, the sea, and the clean air. People were friendly and kind
 20
"Fur Shop", 1980. Mixed media, 182x107x32cm. Courtesy of the artist.
Underlying my work is an abstract vocabulary, though "GREECE AND ITS the figurative image is foremost.The making HERITAGE HAVE process is an integral part of my work. It can take a long time. It ma- terializes my thoughts
ALWAYS BEEN I"M- PORTANT TO ME AS AN ARTIST.
"Egg Box", 1980. Cloth, acrylic, 10x18x13cm. Courtesy of the artist.