Page 18 - SMCK Magazine #4
P. 18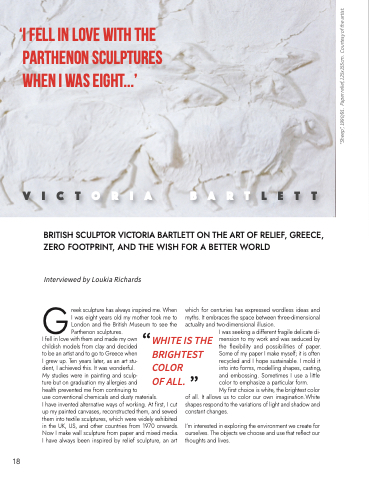 'I FELL IN LOVE WITH THE PARTHENON SCULPTURES WHEN I WAS EIGHT...'
VICTORIA BARTLETT
 18
British sculptor victoriA BArtlett on the Art of relief, Greece, zero footprint, And the wish for A Better world
Interviewed by Loukia Richards
Greek sculpture has always inspired me. When
I was eight years old my mother took me to
London and the British Museum to see the
Parthenon sculptures. I was seeking a different fragile delicate di-
I fell in love with them and made my own "WHITE IS THE
childish models from clay and decided
to be an artist and to go to Greece when
I grew up. Ten years later, as an art stu-
dent, I achieved this. It was wonderful.
My studies were in painting and sculp-
ture but on graduation my allergies and
health prevented me from continuing to
use conventional chemicals and dusty materials.
I have invented alternative ways of working. At first, I cut up my painted canvases, reconstructed them, and sewed them into textile sculptures, which were widely exhibited in the UK, US, and other countries from 1970 onwards. Now I make wall sculpture from paper and mixed media. I have always been inspired by relief sculpture, an art
mension to my work and was seduced by the flexibility and possibilities of paper. Some of my paper I make myself; it is often recycled and I hope sustainable. I mold it into into forms, modelling shapes, casting, and embossing. Sometimes I use a little color to emphasize a particular form.
My first choice is white, the brightest color of all. It allows us to color our own imagination.White shapes respond to the variations of light and shadow and
constant changes.
I'm interested in exploring the environment we create for ourselves. The objects we choose and use that reflect our thoughts and lives.
BRIGHTEST COLOR " OF ALL.
which for centuries has expressed wordless ideas and myths. It embraces the space between three-dimensional actuality and two-dimensional illusion.
"Sheep", 1990/91. Paper relief, 125x155cm. Courtesy of the artist.