Page 16 - SMCK Magazine #4
P. 16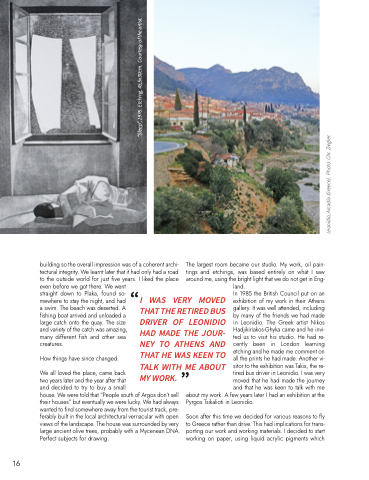 16
building so the overall impression was of a coherent archi- tectural integrity. We learnt later that it had only had a road to the outside world for just five years. I liked the place even before we got there. We went
straight down to Plaka, found so- mewhere to stay the night, and had a swim. The beach was deserted. A fishing boat arrived and unloaded a large catch onto the quay. The size and variety of the catch was amazing, many different fish and other sea creatures.
How things have since changed.
We all loved the place, came back
two years later and the year after that
and decided to try to buy a small
house. We were told that "People south of Argos don't sell their houses" but eventually we were lucky. We had always wanted to find somewhere away from the tourist track, pre- ferably built in the local architectural vernacular with open views of the landscape. The house was surrounded by very large ancient olive trees, probably with a Mycenean DNA. Perfect subjects for drawing.
The largest room became our studio. My work, oil pain- tings and etchings, was based entirely on what I saw around me, using the bright light that we do not get in Eng-
land.
In 1985 the British Council put on an exhibition of my work in their Athens gallery. It was well attended, including by many of the friends we had made in Leonidio. The Greek artist Nikos Hadjikiriakos-Ghyka came and he invi- ted us to visit his studio. He had re- cently been in London learning etchingandhemademecommenton all the prints he had made. Another vi- sitor to the exhibition was Takis, the re- tired bus driver in Leonidio. I was very moved that he had made the journey and that he was keen to talk with me
about my work. A few years later I had an exhibition at the Pyrgos Tsikalioti in Leonidio.
Soon after this time we decided for various reasons to fly to Greece rather than drive. This had implications for trans- porting our work and working materials. I decided to start working on paper, using liquid acrylic pigments which
"I WAS VERY MOVED THAT THE RETIRED BUS DRIVER OF LEONIDIO HAD MADE THE JOUR- NEY TO ATHENS AND THATHEWA"SKEENTO TALK WITH ME ABOUT MY WORK.
Leonidio, Arcadia (Greece). Photo: Chr. Ziegler.
"Sleep", 1976. Etching, 45,5x30cm. Courtesy of the artist.