Page 15 - SMCK Magazine #4
P. 15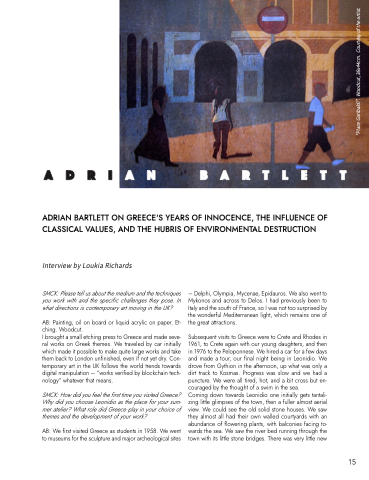 ADRI
AdriAn BArtlett on Greece's yeArs of innocence, the influence of clAssicAl vAlues, And the huBris of environmentAl destruction
Interview by Loukia Richards
SMCK: Please tell us about the medium and the techniques you work with and the specific challenges they pose. In what directions is contemporary art moving in the UK?
AB: Painting, oil on board or liquid acrylic on paper. Et- ching. Woodcut.
I brought a small etching press to Greece and made seve- ral works on Greek themes. We traveled by car initially which made it possible to make quite large works and take them back to London unfinished, even if not yet dry. Con- temporary art in the UK follows the world trends towards digital manipulation – "works verified by blockchain tech- nology" whatever that means.
SMCK: How did you feel the first time you visited Greece? Why did you choose Leonidio as the place for your sum- mer atelier? What role did Greece play in your choice of themes and the development of your work?
AB: We first visited Greece as students in 1958. We went to museums for the sculpture and major archeological sites
– Delphi, Olympia, Mycenae, Epidauros. We also went to Mykonos and across to Delos. I had previously been to Italy and the south of France, so I was not too surprised by the wonderful Mediterranean light, which remains one of the great attractions.
Subsequent visits to Greece were to Crete and Rhodes in 1961, to Crete again with our young daughters, and then in 1976 to the Peloponnese. We hired a car for a few days and made a tour, our final night being in Leonidio. We drove from Gythion in the afternoon, up what was only a dirt track to Kosmas. Progress was slow and we had a puncture. We were all tired, hot, and a bit cross but en- couraged by the thought of a swim in the sea.
Coming down towards Leonidio one initially gets tantali- zing little glimpses of the town, then a fuller almost aerial view. We could see the old solid stone houses. We saw they almost all had their own walled courtyards with an abundance of flowering plants, with balconies facing to- wards the sea. We saw the river bed running through the town with its little stone bridges. There was very little new
15
 AN BARTLETT
"Place Garibaldi". Woodcut, 36x44cm. Courtesy of the artist.