Page 54 - SMCK Magazine #4
P. 54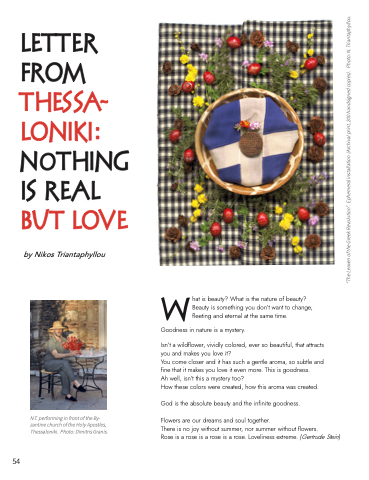 LETTER
FROM
THESSA-
LONIKI:
NOTHING
IS REAL
BUT LOVE
by Nikos Triantaphyllou
N.T. performing in front of the By- zantine church of the Holy Apostles, Thessaloniki. Photo: Dimitris Granis.
What is beauty? What is the nature of beauty? Beauty is something you don't want to change, fleeting and eternal at the same time.
Goodness in nature is a mystery.
Isn't a wildflower, vividly colored, ever so beautiful, that attracts you and makes you love it?
You come closer and it has such a gentle aroma, so subtle and fine that it makes you love it even more. This is goodness.
Ah well, isn't this a mystery too?
How these colors were created, how this aroma was created.
God is the absolute beauty and the infinite goodness.
Flowers are our dreams and soul together.
There is no joy without summer, nor summer without flowers.
Rose is a rose is a rose is a rose. Loveliness extreme. (Gertrude Stein)
 54
"TheLeavenoftheGreekRevolution".Ephemeralinstallation(Archivalprint,200handsignedcopies). Photo:N.Triantaphyllou.