Page 40 - SMCK Magazine #4
P. 40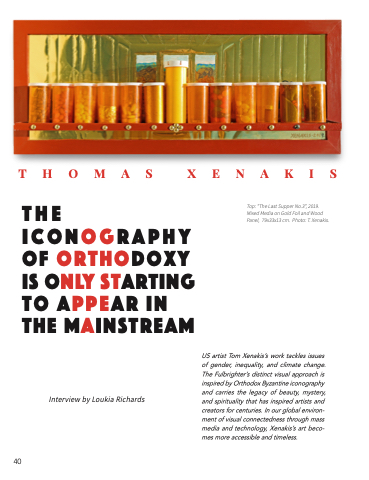 40
THOMAS XENAKIS
The iconography of Orthodoxy is only starting to appear in the mainstream
Interview by Loukia Richards
Top: "The Last Supper No.3", 2019. Mixed Media on Gold Foil and Wood Panel, 79x33x13 cm. Photo: T. Xenakis.
US artist Tom Xenakis's work tackles issues of gender, inequality, and climate change. The Fulbrighter's distinct visual approach is inspired by Orthodox Byzantine iconography and carries the legacy of beauty, mystery, and spirituality that has inspired artists and creators for centuries. In our global environ- ment of visual connectedness through mass media and technology, Xenakis's art beco- mes more accessible and timeless.