Page 68 - SMCK Magazine #4
P. 68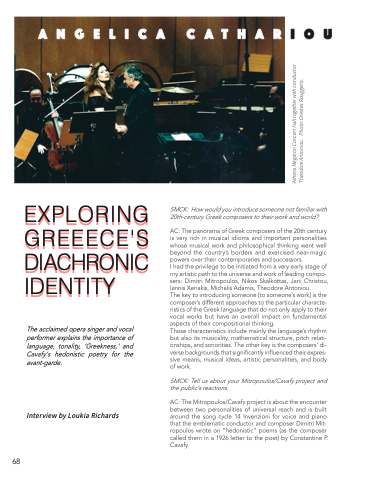 ANGELICA CATHAR
68
Exploring
Exploring
SMCK: How would you introduce someone not familiar with 20th-century Greek composers to their work and world?
grEEEcE's
grEEEcE's
AC: The panorama of Greek composers of the 20th century is very rich in musical idioms and important personalities whose musical work and philosophical thinking went well beyond the country's borders and exercised near-magic powers over their contemporaries and successors.
diachronic
diachronic
I had the privilege to be initiated from a very early stage of my artistic path to the universe and work of leading compo- sers: Dimitri Mitropoulos, Nikos Skalkottas, Jani Christou, Iannis Xenakis, Michalis Adamis, Theodore Antoniou.
idEntity
idEntity
The key to introducing someone [to someone's work] is the composer's different approaches to the particular characte- ristics of the Greek language that do not only apply to their vocal works but have an overall impact on fundamental aspects of their compositional thinking.
Those characteristics include mainly the language's rhythm but also its musicality, mathematical structure, pitch relati- onships, and sonorities. The other key is the composers' di- verse backgrounds that significantly influenced their expres- sive means, musical ideas, artistic personalities, and body of work.
SMCK: Tell us about your Mitropoulos/Cavafy project and the public's reactions.
AC: The Mitropoulos/Cavafy project is about the encounter between two personalities of universal reach and is built around the song cycle 14 Invenzioni for voice and piano that the emblematic conductor and composer Dimitri Mit- ropoulos wrote on "hedonistic" poems (as the composer called them in a 1926 letter to the poet) by Constantine P. Cavafy.
The acclaimed opera singer and vocal performer explains the importance of language, tonality, 'Greekness,' and Cavafy's hedonistic poetry for the avant-garde.
Interview by Loukia Richards
IOU
Athens Megaron Concert Hall together with conductor TheodoreAntoniou. Photo:OrestesRouggeris.