Page 46 - SMCK Magazine #4
P. 46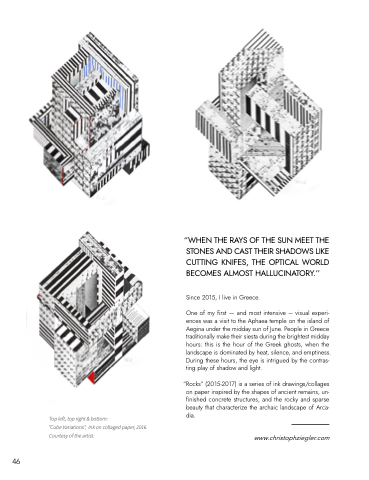 46
'
'whEN ThE rayS Of ThE SUN MEET ThE STONES aNd CaST ThEir ShadOwS LiKE CUTTiNg KNifES, ThE OPTiCaL wOrLd BECOMES aLMOST haLLUCiNaTOry.''
Since 2015, I live in Greece.
One of my first — and most intensive – visual experi- ences was a visit to the Aphaea temple on the island of Aegina under the midday sun of June. People in Greece traditionally make their siesta during the brightest midday hours: this is the hour of the Greek ghosts, when the landscape is dominated by heat, silence, and emptiness During these hours, the eye is intrigued by the contras- ting play of shadow and light.
Rocks" (2015-2017) is a series of ink drawings/collages on paper inspired by the shapes of ancient remains, un- finished concrete structures, and the rocky and sparse beauty that characterize the archaic landscape of Arca- dia.
  www.christophziegler.com
"
.
Top left, top right & bottom:
"Cube Variations", Ink on collaged paper, 2016. Courtesy of the artist.