Page 2 - SMCK Magazine #4
P. 2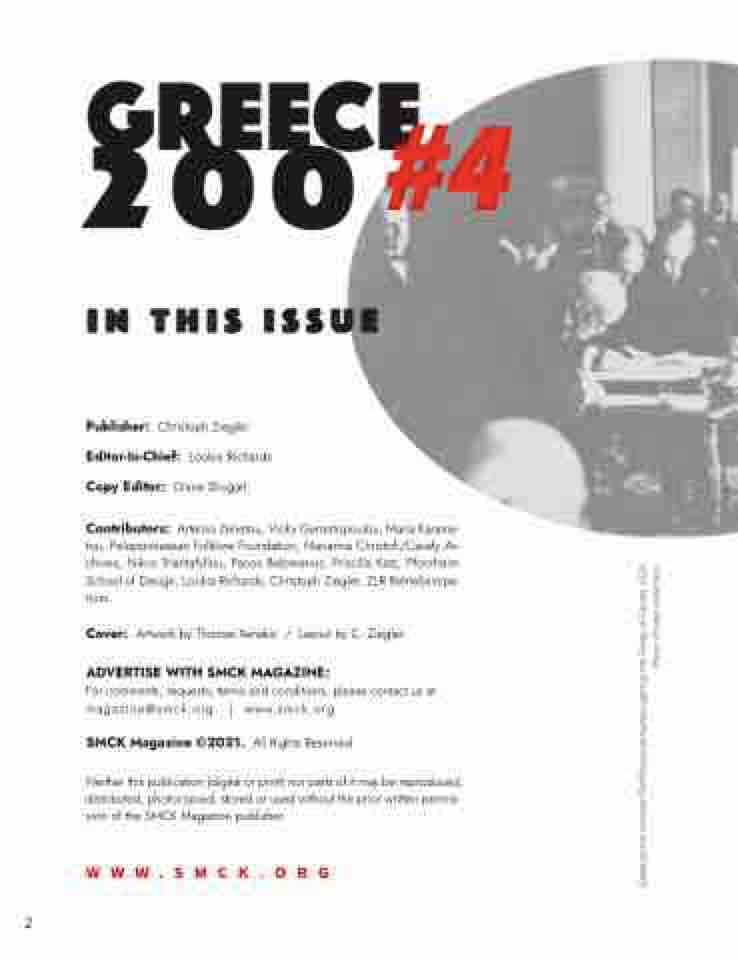 2
GREECE
 200
#4
IN THIS ISSUE
Publisher: Christoph Ziegler. Editor-In-Chief: Loukia Richards. Copy Editor: Diane Shugart.
Contributors: Artemis Zenetou, Vicky Gerontopoulou, Maria Karame- tou, Peloponnesean Folklore Foundation, Marianna Christofi/Cavafy Ar- chives, Nikos Triantafyllou, Panos Balomenos, Priscilla Katz, Pforzheim School of Design, Loukia Richards, Christoph Ziegler, ZLR Betriebsimpe- rium.
Cover: Artwork by Thomas Xenakis / Layout by C. Ziegler.
ADVERTISE WITH SMCK MAGAZINE:
For comments, requests, terms and conditions, please contact us at magazine@smck.org | www.smck.org
SMCK Magazine ©2021. All Rights Reserved.
Neither this publication (digital or print) nor parts of it may be reproduced, distributed, photocopied, stored or used without the prior written permis- sion of the SMCK Magazine publisher.
WWW.SMCK.ORG
Greek prime minister Eleftherios Venizelos signing the Treaty of Sevres, 1920. Photo: Private collection.